Principals can execute manual correlations in order to select their own keywords or phrases and add them as correlated text. To get to the correlations page, start or open a scheduled observation and enter some text. Click the Correlate button after entering text on the first page of the observation form. After clicking the Correlate button, the Correlations page should display as shown below. The Manual Correlation block is on the far right side of the page, as shown below.
To add a manual correlation, principals must highlight the desired word or phrase using their cursor and then click the Select button under step 1. After clicking Select, principals can then use step 2 to select the component codes they wish to correlate the selected text to. Principals must click Save to save their manual correlation.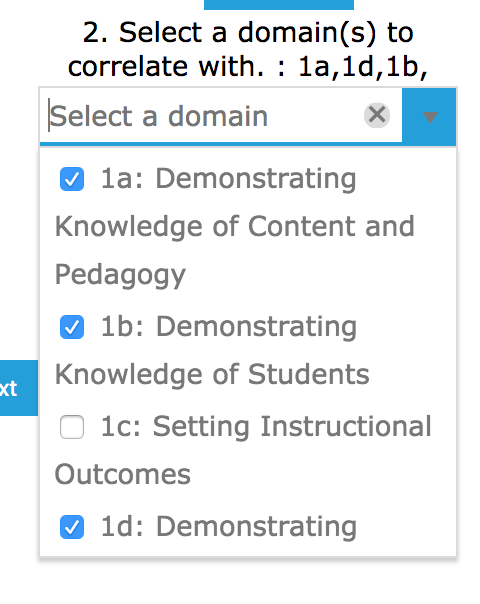 In the image above, the principal has completed step 1 and step 2 of the manual correlation. In the image below, the principal has clicked 'Save' next to step 3 in the Manual Correlations block. This saves the manual correlation and adds it to the Correlations table.

Manual correlations are highlighted in blue, and they are displayed with a footnote that has the letter 'M' in it as shown in the 'Cor#' column of the image above.