The principal can access their Professional Practice calendar by logging into the Evaluations Hub, hovering their cursor over the 'Professional Practice' main menu item and clicking 'Calendar' as shown below.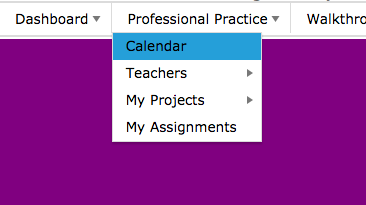 The Professional Practice calendar shows the principal all scheduled observations within their school, as shown below.
Once an observation is scheduled it will display as a block in the calendar as shown above. Principals can hover over each calendar block to show details of the observation, as shown below.
Principals can view their teacher list by clicking the 'Back' button located at the bottom right side of the calendar. To get back to the calendar, principals can click the calendar icon shown below.