Once the teacher's scores have been fulfilled, they will be able to access the End of Year worksheet using the "Teacher Evaluation" button on the far right side of their Teacher Dashboard, shown in Figure 14.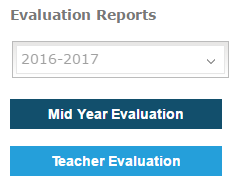 Figure 14
The teacher can click on the Teacher Evaluation button above and the End of Year form will open in a new tab, as shown in Figure 15. If the principal has not yet left a comment then the teacher can enter their text into the Teacher Comments section, shown in Figure 15.
Figure 15
The teacher must scroll down and click "Save & Submit" (shown in Figure 16) to submit their comment to the principal. The principal will then receive an email that lets them know the teacher entered their comment.

Figure 16
The principal will see the comment when they log into TEAMS and view the teacher's End of Year worksheet. Once the principal saves their comment, the teacher will not be able to add or edit their comment to the form. When the principal saves their comment the teacher will receive an email notification.